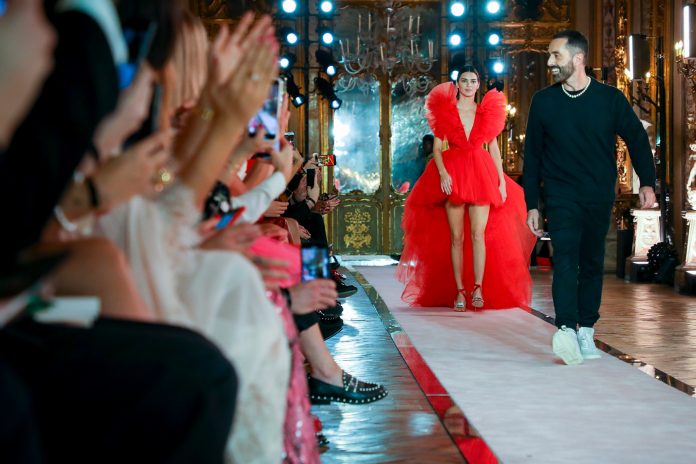 On November 7, shoppers rushed to H&M flagships worldwide and feverishly refreshed their browsers in anticipation of the Giambattista Valli x H&M main collection drop. Following the line's successful debut at the amfAR gala in Cannes this past May and the rave reviews emerging from its October 24 fashion show, the virtual and physical stampedes practically wrote themselves into the stars. Within an hour, the collaboration's intricate and showstopping designs sold out on the high street retailer's website and hordes emptied high street stores.
In an interview with Vogue last month, the Italian-born, Paris-based designer perfectly summarized his aesthetic approach to the collaboration: "I like the idea of H&M in front of a Caravaggio." And he did exactly that. At the collaboration's show two weeks ago, Kendall Jenner modeled Valli's signature ruffles with the Caravaggio oils of Rome's Palazzo Doria Paphilj as her backdrop. The Baroque painter seems well suited to the H&M collaboration: just as he sought to render his paintings more relatable by depicting real people in modern dress as models for divine subjects, Valli makes his artform more accessible by trading in plissé tulle for polyester. Just as Caravaggio's bold reds imbued his canvases with intensity juxtaposed against dark tenebrism, the dramatic red ruffles in which Kendall Jenner walked shone like a bastion of ultrafeminine power and grace amidst what we might call a bleak present. Nicknamed "Project Love," the collaboration was conceived with the intention of bringing happiness to consumers internationally, and in this, it succeeds. As its hem suggests, the "Long Tulle Dress" (retailing at £299.99) has high-low appeal, conceivably the reason it has been the centerpiece of the collaboration. The tulle dress's dynamic length, tapered waste, and plunging V-neck all evidence Valli's dazzling red-carpet style via the high street. Other standout pieces include the "Ball Dress," a black gown with enchanting floral embroidery (£249.99) and the "Chiffon Dress," a white frock with cascading pleats and a dreamy print (£139.99). Valli also designed t-shirts (£24.99) and even a two-pack pair of socks (£12.99) in keeping with H&M's wide range of offerings.
In a recent interview with the Telegraph, Valli said of the line, "My idea was for you to look at a dress and think it is just as good, it just has different ingredients. Very good pizza is not worse than very good caviar, you know?" While Mr. Valli's final comparison can place the fashion industry into the murky waters of taking street style staples like sneakers or jeans and attaching their label to justify the addition of several zeros to the sum, the notion of appreciating good style resonates with high street and haute couture customers alike. Deft needlework and sumptuous fabrics may be synonymous with quality fashion pieces; yet, Giambattista Valli x H&M perhaps gets at fashion's very essence: clothes without the mannequin. In other words, Valli's designs are so compelling that they win admiration from all shoppers on account of their sheer artistry, even if they lack the traditional trappings of a high fashion designation.
---
For Cherwell, maintaining editorial independence is vital. We are run entirely by and for students. To ensure independence, we receive no funding from the University and are reliant on obtaining other income, such as advertisements. Due to the current global situation, such sources are being limited significantly and we anticipate a tough time ahead – for us and fellow student journalists across the country.
So, if you can, please consider donating. We really appreciate any support you're able to provide; it'll all go towards helping with our running costs. Even if you can't support us monetarily, please consider sharing articles with friends, families, colleagues - it all helps!
Thank you!