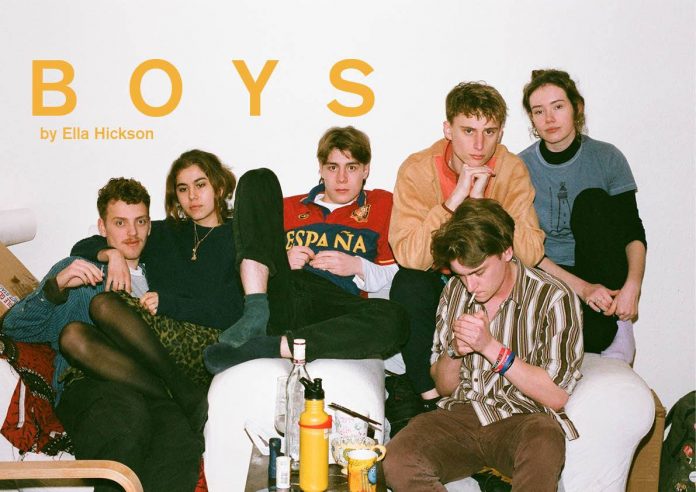 Boys, by Ella Hickson, centres on a group of men at the crisis point between university and the real world. As both Benny and Mack conclude their lives as students and as Cam prepares for a career-defining music recital, Timp drowns out the drudgery of his aimless job with drugs, booze and sex. Together, they approach a watershed in life as they are faced with the ending of the lease on their flat and a harsh confrontation with their own futures. We watch, captivated, as their internal chaos escapes into actuality.
The real strength of this production was in the fullness of its characters; they were all crafted to be far beyond the sum of their plot points. The audience was presented with six developed and diverse people rather than meagre shadows of personality. There was also no dominance of any one character, even though that may have been expected to be the case with the animated, and unpredictable, Timp, funding much of the comic relief. Rather, larger-than-life Timp (Charlie Wade), enhanced the somber and ruminative character of Mack (Josh Shepherd-Smith). Just as the obsessive and somewhat timid Benny (Alasdair Linn) opposes the more easy-going yet internally disorientated Cam (Joe Woodman). The girls, Sophie and Laura, played by Georgie Dettmer and Tara Kelly were not reduced to romantic interests of the 'boys' but were distinct with their own morals, feeling and depth. The group created was dynamic and acutely realistic.
The complementarity of the cast, their best acting by far was in scenes where they were all together, allowed them to bounce off each other, at once existing as incredibly tired of each other's company and at the same time hopelessly and fondly codependent. These scenes were vibrant and excruciatingly real. There was constant movement, no static characters waiting for a repetitive tedium of call-and-response, but actors bouncing off one another, at once interrupting and talking over each other but still perfectly clear and understandable in what they were saying. The juxtaposition between pop and classical music embodied the flow of the erratic nature of the play as the characters hopped from situation to situation, clinging to anything that distracted them from the realities they were trying to avoid.
Under the amber glow of a plastic bag over the light, both a comforting warm presence and an unsettling haze, the set design was a perfect realization of the emotions of the play. The tumultuous and claustrophobic flat was littered with rubbish bags, empty and partly full bottles and drugs. This mess grew over the duration. As Timp walked on the tables, kicking bottles and spilling drinks, the characters were able to truly exist and interact with a set making it more real than the oft preserved and untouched set designs which are usually seen in performances. The intricacy of the set is testament to the design team: from 'boobs' arranged in letters on the fridge, to the notes about 'loud sex' on the pin board, they presented a set which was acutely authentic and perfectly symbolic.
Directors Charlie Barlow and Millie Tupper created a perfect expression of a mental bedlam, as the turbulence of life comes to the forefront with its uncontrollable and untamable nature. This whirl of fast-paced plot truly makes it feel as life is slipping away and the increasing disarray encapsulates the suffocating existential fever gripping the play.
---
For Cherwell, maintaining editorial independence is vital. We are run entirely by and for students. To ensure independence, we receive no funding from the University and are reliant on obtaining other income, such as advertisements. Due to the current global situation, such sources are being limited significantly and we anticipate a tough time ahead – for us and fellow student journalists across the country.
So, if you can, please consider donating. We really appreciate any support you're able to provide; it'll all go towards helping with our running costs. Even if you can't support us monetarily, please consider sharing articles with friends, families, colleagues - it all helps!
Thank you!