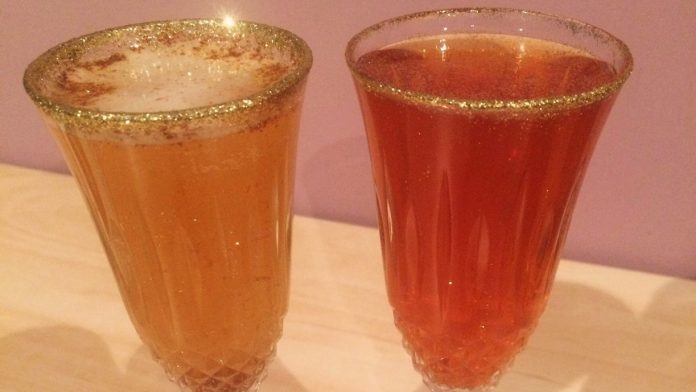 Christmas and alcohol go hand in hand, and whilst your standard mulled wine or glass of prosecco may be classics, sometimes shaking up (or perhaps stirring) your winter party cocktails can be the best part of festive drinking. So here I have a few yummy favourite cocktails of mine.
You'll see that I don't offer exact amounts of each ingredient to use: I prefer to use ratios, and even then, I recommend tasting it to ensure the drink is exactly to your preference.
Sloe gin fizz
Sloe gin is probably the nectar of the Gods (what is a cocktail without gin, am I right?). If you have homemade sloe gin then this is a great way to use it, but if not, many supermarkets stock it. If you want to stay down the locally made path, Demijohns on Little Clarendon Street stocks a very tasty sloe gin made in Worcester. A simple cocktail that not only tastes good but looks beautiful too.
Ingredients:
Sloe gin
Champagne
Lemon juice
Sugar syrup
Edible glitter
Each glass should be 1/5 lemon syrup, 2/5 sloe gin and 2/5 champagne.
Method:
1 – Start with decorating your champagne flutes – this isn't optional because it looks amazing, and you'll feel like a domestic goddess. To do this, moisten the rim of each glass with lemon juice before gently placing the glass upside down in the edible glitter on a plate until the rim is covered in glitter.
2 – Combine your lemon juice, and sugar syrup together and mix, before adding to a Boston shaker along with the sloe gin, and shake the ingredients together, (alternatively, stir vigorously).
3 – Pour into your glass and fill it up with champagne.
Mulled Sloe Gin
Once again sloe gin is making an appearance (sorry not sorry) in our second drink on the list. Finding a really tasty juice to make this with is a key part; I was lucky to pick up some of the highly coveted apple & pear juice made from fruit in the orchards of Worcester College. However, Marks & Spencer has a brilliant one too. This is the ideal drink for if you're a little bored of mundane mulled wine (if that's possible).
Ingredients:
Sloe Gin
Apple & pear juice
Mixed spices (star anise, cinnamon sticks, cloves etc.)
Aim for ¼ sloe gin to ¾ juice here.
Method:
1 – Put the juice into a pan and leave it to simmer.
2 – Add in the cinnamon sticks, star anise and cloves.
3 – Then add the sloe gin, gently stirring the juice and spices with it.
4 – Take off the heat and serve into your glasses.
Cinnamon Bellini
So this one doesn't have any gin it, BUT as a bellini is such an elegant celebratory drink, I shall allow it as an exception – at least for the Christmas season. Also, cinnamon is delicious. Cinnamon tea can be difficult to find, but there's a great 3 cinnamon tea made by Pukka. Equally, if you struggle to find cinnamon syrup, you can make your own using liquid sugar and ground cinnamon.
Ingredients:
Cinnamon tea
Cinnamon syrup
Prosecco
Cinnamon sticks (optional)
Method:
1 – Brew your cinnamon tea, trying to make it quite strong. Once you are satisfied, place it in the fridge to keep it cool, alongside your prosecco and cinnamon syrup.
2 – When the ingredients are chilled, stir together your syrup and tea before filling half the glass with the mixture.
3 – Add the prosecco and place a cinnamon stick in the glass for decoration.
Enjoy and drink responsibly this Christmas season!
---
For Cherwell, maintaining editorial independence is vital. We are run entirely by and for students. To ensure independence, we receive no funding from the University and are reliant on obtaining other income, such as advertisements. Due to the current global situation, such sources are being limited significantly and we anticipate a tough time ahead – for us and fellow student journalists across the country.
So, if you can, please consider donating. We really appreciate any support you're able to provide; it'll all go towards helping with our running costs. Even if you can't support us monetarily, please consider sharing articles with friends, families, colleagues - it all helps!
Thank you!