Carlotta is number five in the Paris-based group Big Mamma's London outposts. This time, Italian American is the theme and yet again, the delivery is almost impeccable from start to finish. Glorious interiors, attentive service, and generally stunning food make Carlotta yet another delightful place to spend an indulgent Italian afternoon or evening.
The environment is one of the things that makes Big Mamma so special and Carlotta is no different. Upon entering, you are greeted by a golden stand-alone bar before going through into the light and airy main dining room. That Italian American theme is unescapable with the walls plastered by everything from photos of 20thCentury New York and Sicily to boxing belts — think considered and well-chosen tat (if you believe in such a thing). The skylight lends a light airiness to the main dining room akin to a courtyard. Downstairs is a whole different equation. The dark suede lounge is surrounded by mirrors and home to the open kitchen with disco classics playing. The vibe is sensational and I can easily imagine long evenings spent down here with eyes shifting from the chefs to food and then back to friends. The viral toilets that helped make these restaurants famous are here and will leave you subconsciously dancing (just don't bother trying to check your make-up!)
Before anything else, cocktails have got to be the order of the day. The viral glasses are back with a vengeance and each and every cocktail and mocktail seems to be thoughtfully crafted. Across here and the four other sites, I reckon that I've tried almost all of them now and this time the Just Peachy Bellini and Cherry Bomb Spritz were on the menu. The peach was sweet and perhaps dangerously absent of any noticeable alcohol taste but the spritz was much better balanced. The wine list is, as ever, brilliantly well thought out with options on offer at each and every price point. There is everything here from a great value Montepulciano at just £8 a glass to £329 bottles of 2018 Barbaresco. Those varied price points are something that continues across the food menus and is one of the defining features of all of Big Mamma's restaurants. Importantly, indulgent dining really is accessible to everyone: you can just as easily come in for a pasta and a glass of wine as splash out on four courses and £48 lobster dishes.
Antipasti comes first and the Piattino Aperitivo is a large selection of all three types of olives, grissini, artichoke, and mozzarella. Even better? The bresaola grissini. Don't get me wrong, this is an incredibly simple dish that you'll find in every restaurant in Italy but Carlotta's twist of coating the inside of the meat with labneh before wrapping the grissini and adding a tiny grating of lime elevates that simplicity more than you could possibly imagine. At £11, it is great value too when you consider that it will easily serve three or four.
Seafood is the defining speciality at this Big Mamma location and the Shrimp Cocktail was our first taste of it. Again, this is a classic dish but enhanced by simple and straightforward touches. The marie rose uses less mayonnaise than others to create a much lighter flavour and the accompanying crudites include fennel which is a brilliantly nice touch. The tempura shrimp are dusted incredibly lightly to make sure that the flavour is nowhere near lost and tails are removed too (it's the small things that make you feel special somewhere like this!).
It must be said that arancini were a small let-down. This might be a sign of a Carlotta twist gone wrong with the balls served atop pesto and coated in a pistachio crumb. This much sounds enticing but the mozzarella and provola interior is so creamy and cheesy that any structure is lost and the delicate nutty flavours are drowned out.
Ave Mario and Circolo Poplare shot to fame with viral videos of pasta served out of cheese wheels and make no mistake, that is still an option here — I fear there would be a revolt if it wasn't. Our pasta dish was a new one though, Spaghetti con Gamberi Rossi. The sauce here is a rich bisque of the prawns themselves and incredibly heavy. It is absolutely delicious but this is a dish to share between two or three and almost certainly not one to tackle alone. The prawns themselves are Sicilian, grilled, and typically giant to add a meatiness to the pasta alongside the juices from the heads.
If you take a look at the menu one dish and one dish only stands out. There are a million different reinventions of Italian classics but only one secondi has a giant red box around it. The Lobster Carlotta is for two, costs £48 per person and comes alongside a salad and layered potatoes. This is steep at first glance but given the huge size and how much fresh lobster tends to cost you in central London, you could do far far worse. The 1kg beast is dressed tableside in a beurre blanc that manages to add flavour whilst not overpowering the fresh shellfish like these sauces so often do. If you are paying close to £100 for a dish then you likely aren't interested in a creamy butter sauce but you are more than free to add extra as you see fit. What is more, the sides really aren't done justice by their descriptions. The 'crispy layered potatoes' consist of five slices of potato, each sandwiched with Parmigiano Reggiano before being lightly fried to achieve a thick consistency reminiscent of polenta. They need a dip and this is where that beurre blanc can really come into its own. The salad is a lot simpler than that but the dressing brings an enhanced freshness where so often leaves are ruined by being drowned to kingdom come. Quite simply, if you come to Carlotta, then this is the dish.
And desserts, oh desserts. Since going to my first Big Mamma restaurant, Circolo Poplare, I have entered each and every one looking forward to the final course. That's dangerous when meals here can last a good few hours but that wait is almost always worth it. I never cease to be amazed by how I make it to this stage barely able to move from eating and yet find room for more. I always used to explain this to my mum by the presence of a 'dessert tummy'. Whether or not that is a biologically sound explanation, I'd encourage you to do your very best to find one.
Somewhat tragically, Jacuzzi's pistachio profiterole isn't present but Carlotta's Wedding Cake, the restaurant's namesake, very much is. I'm really not a cake person and sponge is usually far too dry for me. Admittedly, there's no danger of that with this one with each slice of genoise layered with vanilla cream and whole raspberries (there's no messing about with jams). Atop is a creamy meringue sauce, raspberry coulis, and meringue chunks that collapse over the whole thing in a tableside show when the plastic coating is removed. Go on, get out the camera — it's a total cliché but it's why you're here after all.
The best deal on the sweet front is the Dolci e Caffettino. For just £11 you get an espresso and a mini version of tiramisu, fresh berries with cream, and the signature chocolate tart. All three are distinct and rich in their own ways and you certainly don't need a full portion of any of them. That, combined with the delightful boar crockery, makes this a great order.
Carlotta is special, but then again each and every time this group opens a new site that same fact remains the case. I will never cease to be amazed by that consistently remarkable ability to reinvent and remix tried and tested recipes into new and individual eateries. From the outside, it looks comic book-esque and is easy to scoff at. Step inside though, and you are instantly transported into an enthralling world of delightful Italian atmospheres, service, and food. There's no surer bet in London or around Europe for a pleasant and special long meal than a Big Mamma restaurant and Carlotta lives up to that reputation.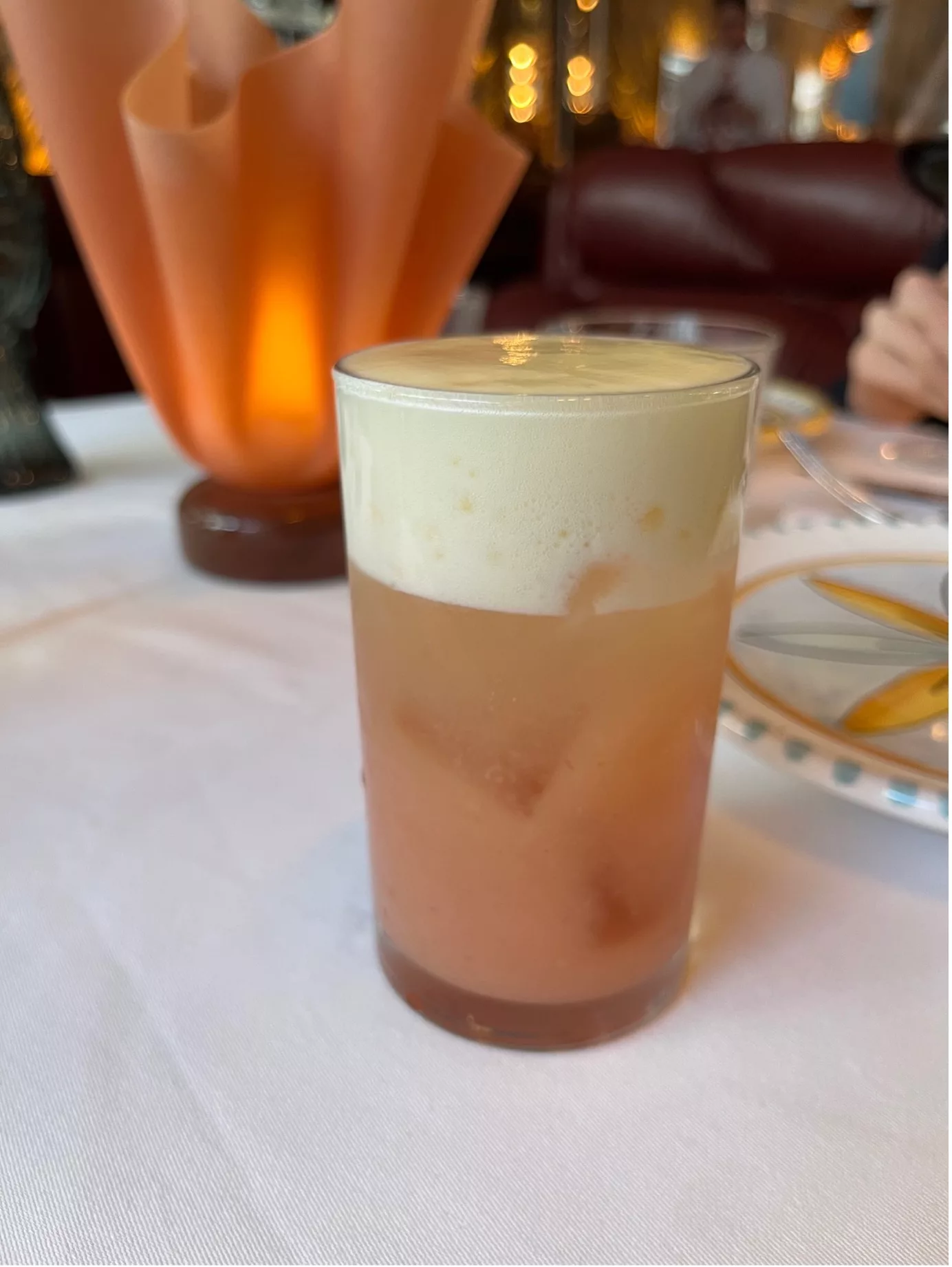 ---
For Cherwell, maintaining editorial independence is vital. We are run entirely by and for students. To ensure independence, we receive no funding from the University and are reliant on obtaining other income, such as advertisements. Due to the current global situation, such sources are being limited significantly and we anticipate a tough time ahead – for us and fellow student journalists across the country.
So, if you can, please consider donating. We really appreciate any support you're able to provide; it'll all go towards helping with our running costs. Even if you can't support us monetarily, please consider sharing articles with friends, families, colleagues - it all helps!
Thank you!