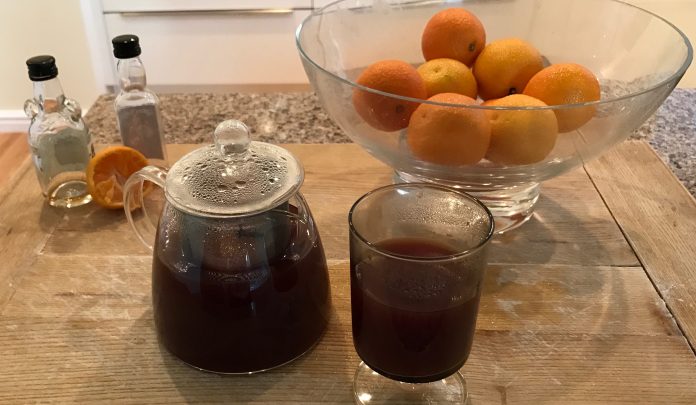 This weekend, my co-editor Emily and I decided to try and make some traditional Christmas drinks. After a hectic few hours running around Sainsbury's for ingredients and shouting at each other across a kitchen, we have distilled two great and easy drink recipes for you to enjoy this Christmas period. Remember, half the fun in these recipes is tasting them as you go.
The first recipe is Jaegertee, a warm alcoholic drink coming from Central Europe that will help keep you warm and merry over Christmas.
Ingredients:
200ml of red wine
200ml of fresh orange juice
200ml of tea
200ml of spiced rum
200ml of any liqueur to hand, we would recommend plum brandy or schnapps (optional)
3 whole cloves
¼ of cinnamon stick
2 lemon slices
Sugar
This should produce around 5 glasses of Jaegertee.
Method:
1 – Measure out the orange juice, wine, rum and brandy and put these into a pan
2 – Brew the tea and then add it to the pan, best done when still hot
3 – Add the spices and lemon to the pan
4 – Let this come to a gentle simmer on medium heat and leave for about 5 minutes
5 – Remove this from the heat and sieve away the spices and lemon
6 – We would then recommend that you add sugar to sweeten the drink, but this is optional
7 – Drink
The second recipe is for a much-loved Christmas classic, mulled wine.
Ingredients:
1 bottle red wine
1 stick of cinnamon
1 star anise
1 tsp ground nutmeg
60g Demerara sugar
1 orange, halved
Method:
1 – Put the wine into a pan and then add the orange, sugar and other spices
2 – Bring this to a gentle heat and stir until all the sugar has dissolved. Mull for around 5-10 minutes
3 – Taste it along the way to see if you want it sweeter and if so, add more sugar to taste
4 – Remove this from the heat and strain it
5 – Serve and drink at once
Enjoy and drink responsibly this Christmas season!
---
For Cherwell, maintaining editorial independence is vital. We are run entirely by and for students. To ensure independence, we receive no funding from the University and are reliant on obtaining other income, such as advertisements. Due to the current global situation, such sources are being limited significantly and we anticipate a tough time ahead – for us and fellow student journalists across the country.
So, if you can, please consider donating. We really appreciate any support you're able to provide; it'll all go towards helping with our running costs. Even if you can't support us monetarily, please consider sharing articles with friends, families, colleagues - it all helps!
Thank you!