There are certain red flags for me when reviewing a restaurant or café; photos on the menu, a man outside beckoning you in, and all the other standards. Another is a menu extensive, varied, and long. This is because it usually points to one or all of a few things. Maybe the place can't decide what it wants to be, maybe there's a lack of focus, or maybe there's a lot of frozen ingredients. While usually this results in a muddled and middling experience, Temptations Dessert Lounge in Summertown manages to avoid most of these problems. Owner Kate has put serious investment into a striking site on Banbury Road offering everything from crepes to waffles, wine and cocktails.
When you first walk in, it is impossible to ignore the associations with the large dessert chains that have established themselves in recent years. From the large ice cream counter to the booth seating, it somewhat screams Kaspas or Treatz. Pleasingly though, there are key points of difference. Everything here is lighter, both in colour and general atmosphere. Everything is cleaner and, perhaps most importantly, everything is friendlier. These are the hallmark attractions of a local business and to go alongside it, Temptations has a private space available for hire as well as a quaint garden ideal for soaking up the summer sun.
That aforementioned menu is nothing short of massive and upon first inspection daunting. It starts with crepes, waffles, and croffles (more on them later), before moving through personalisation options, cookie dough, dessert jars, cakes, cheesecakes, sundaes, ice cream, afternoon tea, affogatos, 'classic desserts' (think apple crumbles etc.), fondue, fruit, shakes, smoothies, and cocktails. As I said, first impressions are somewhat terrifying. However, that sheer variety does leave room to cater to all manner of dietary requirements. There are entirely separate menus that detail vegan, vegetarian, and gluten-free offerings. This is a great change from the standard note at the bottom that suggests dietaries are a second thought.
The first thing that we tried was the Deluxe Pistachio Waffle. That start was strong and this was undoubtedly my favourite thing we had all afternoon. The pistachio crème here was the star of the show but the waffles were also of high integrity. It had that perfect balance of a crispy exterior and a spongy centre to soak up just enough sauce to add flavour alongside some melted white chocolate, but not completely absorb everything.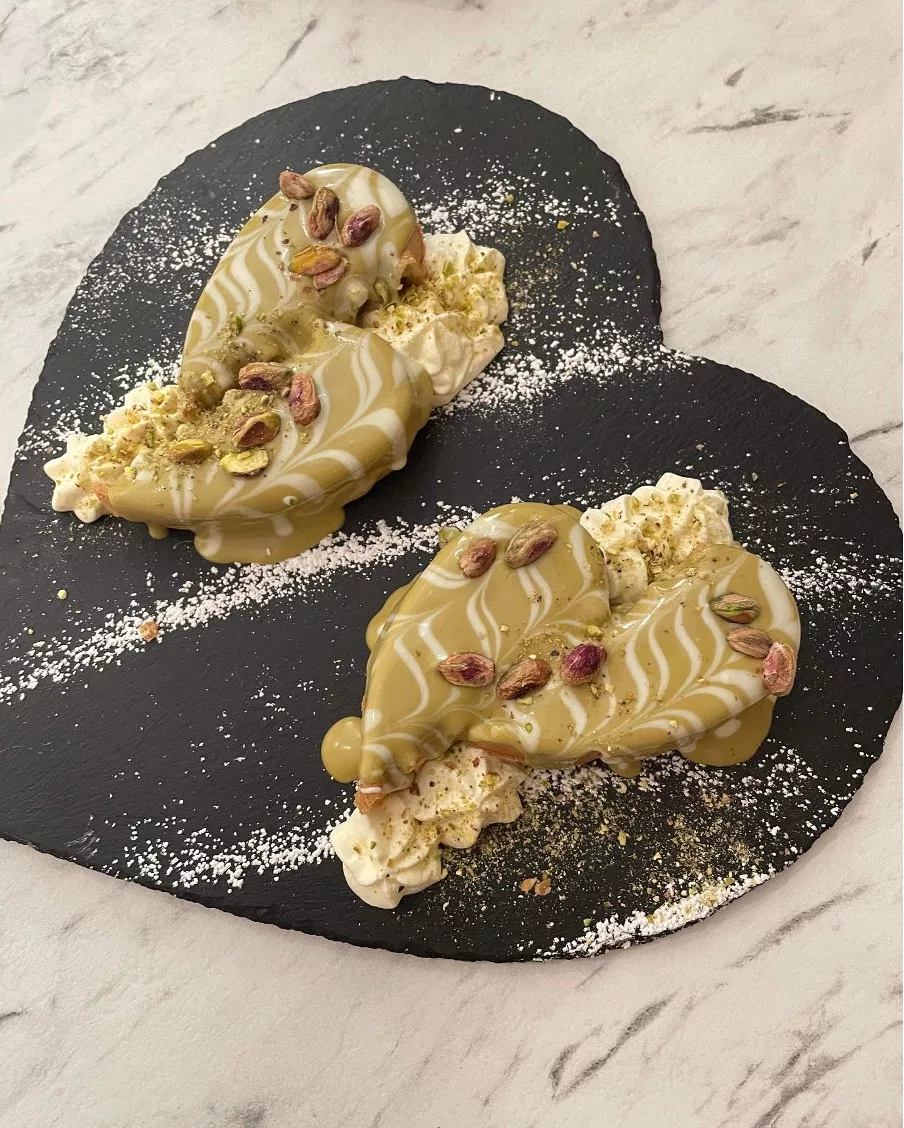 Next came the croffle and it might be best to listen to the accompanying podcast to get a full understanding of this one! Essentially, croissant dough in a waffle iron results in all the good bits of a waffle combined with the flaky pastry of a croissant. Gimmick? Perhaps, but it is a genuinely great and novel dish. Our Lotus version with vanilla ice cream was full of the sweet and sugary goodness you'd expect but at £8.45 and given its size, you will almost certainly want to split it.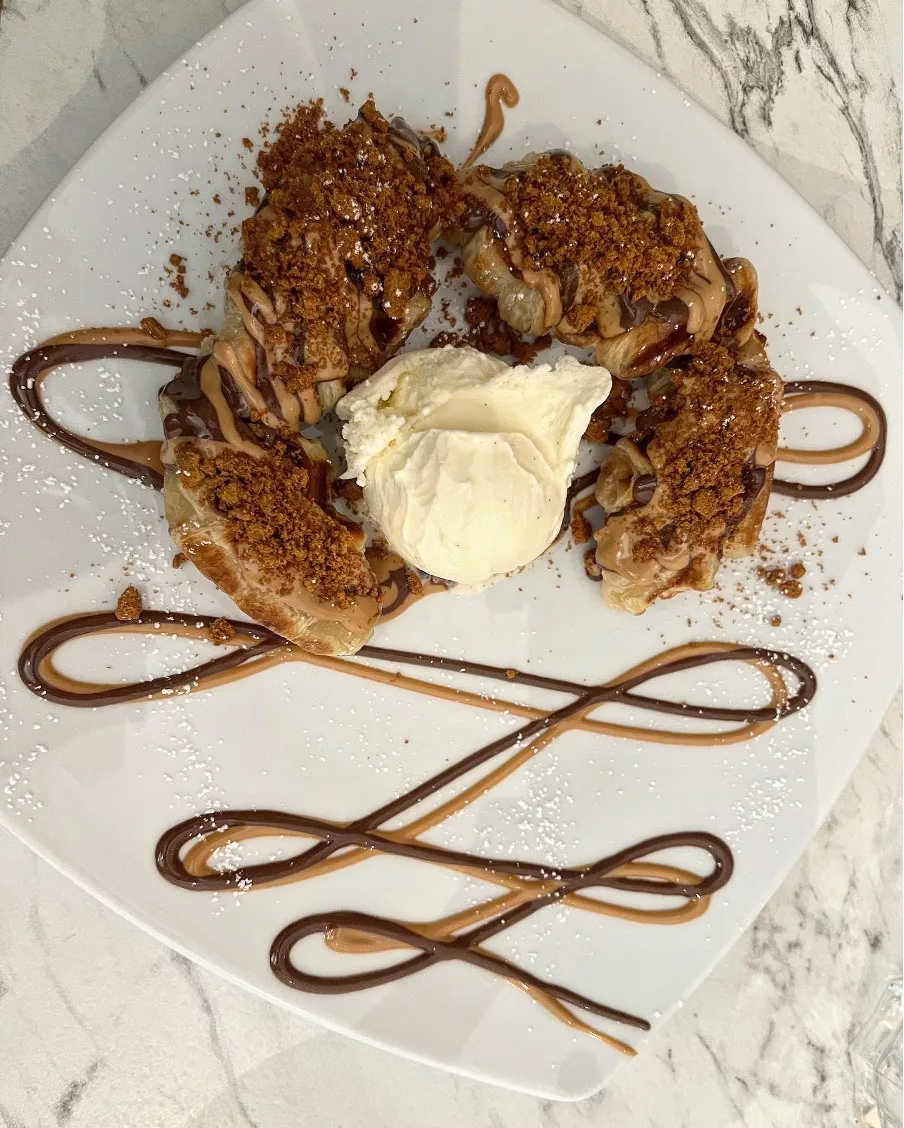 Cookie dough is my weak spot in these kinds of places and Temptations' options are seemingly endless. Almost all of them come in at less than £8 and we got to try the brand-new white chocolate chip spin. Served with strawberry ice cream and fresh fruit, the balance of flavours was spot on and screamed summer.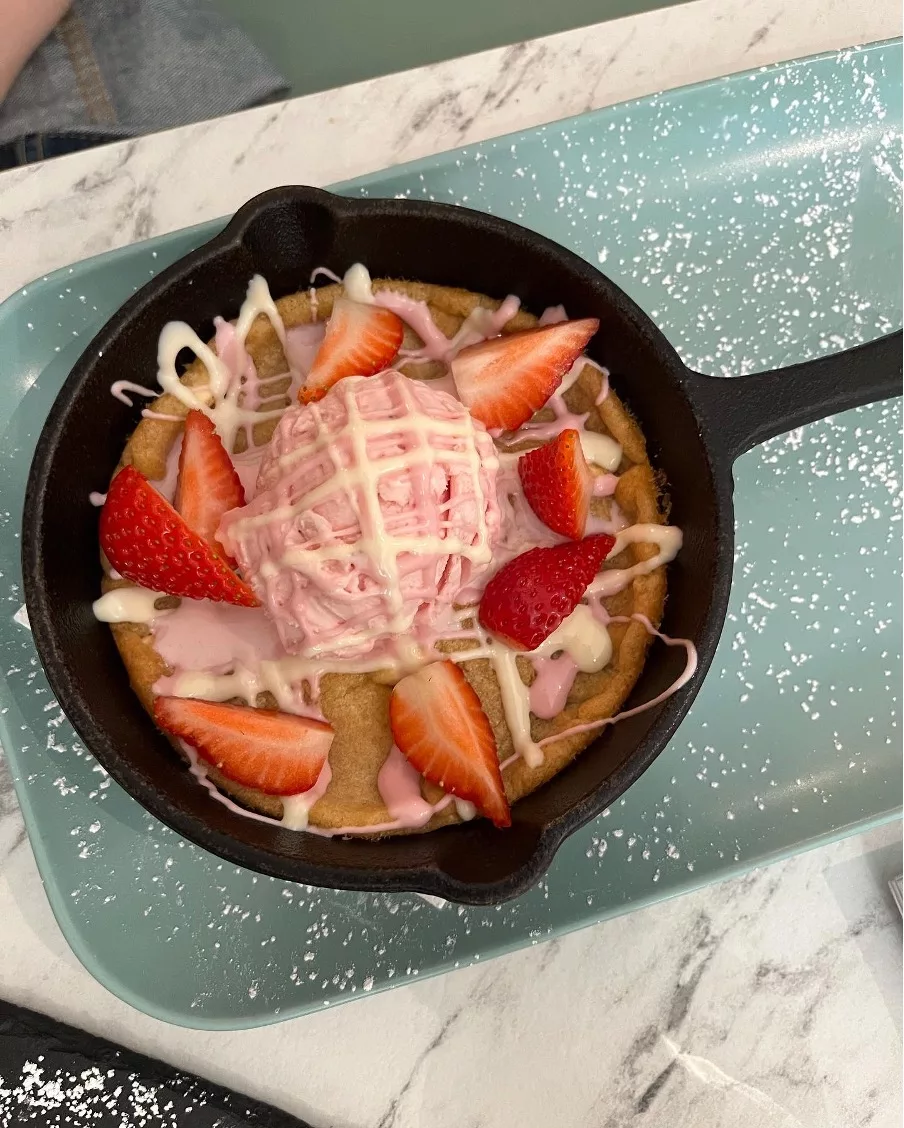 Here though, I do want to make a point about the ice creams in general at Temptations. This is perhaps the place where the number of options on the menu has a negative impact. Don't get me wrong, there is no shortage of options and kids will be excited by the seemingly endless list and colour combinations. If you are looking for hand-crafted and deep-tasting gelato though, this isn't it. Perfect for children perhaps, but all the flavours that I tried were overly sweet and artificial.
In a nice switch-up from your standard dessert-café menu, cheesecake plays a big role here. A slice of the classic New York is £6.50 and as good as you can expect from a non-homemade offering. For just 45p more, you can add any variety of flavours from Oreo to Mint Aero and that might be where the best value on the whole menu is to be found.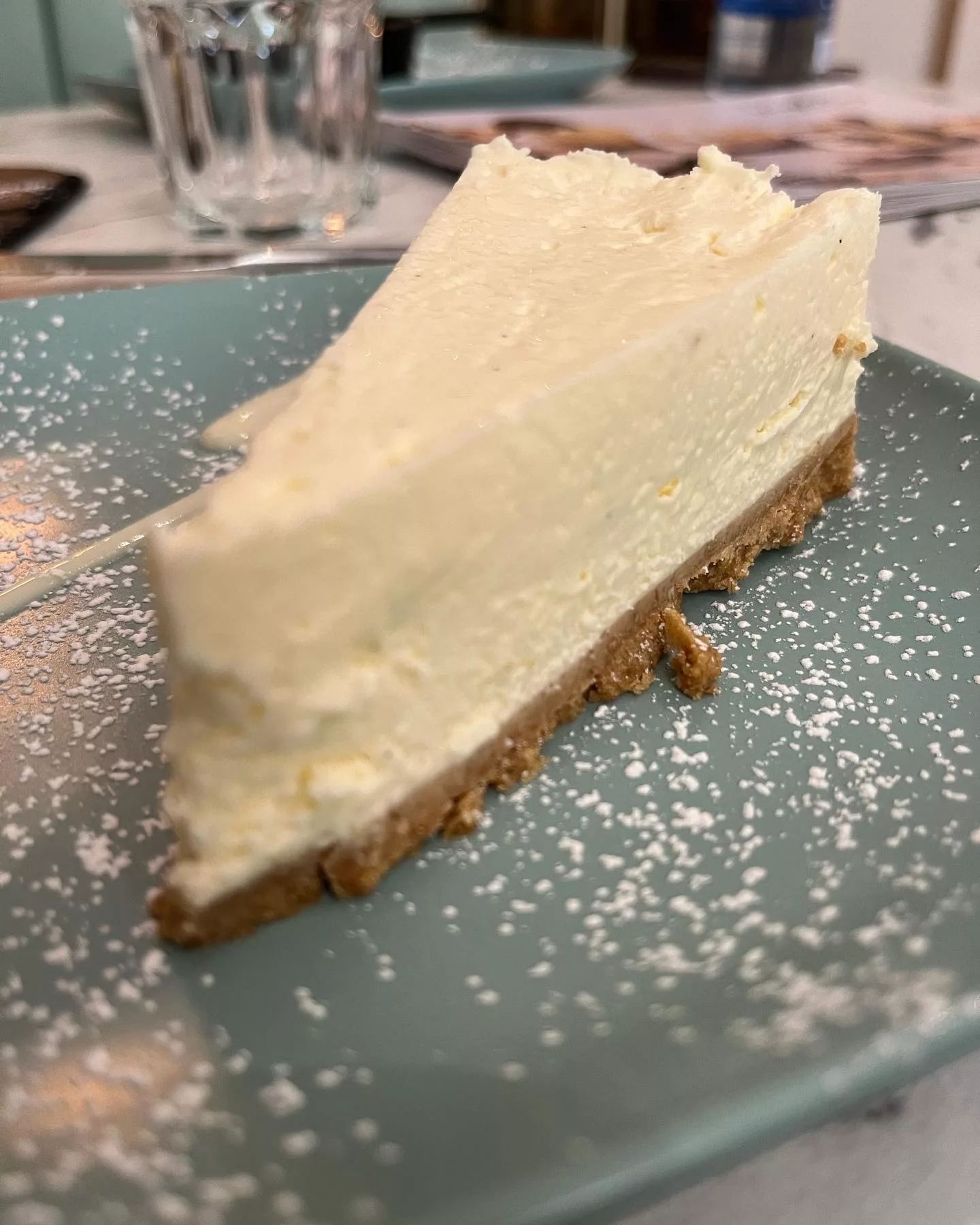 Shakes and sundaes are of course present too and the latter are real showstoppers. Our strawberry crush had fruit, Chantilly cream, meringue, white chocolate, and of course ice cream. Think Eton mess plus ice cream and you are in the right ballpark. Shakes are incredibly thick and again available with every flavour combo you could think of.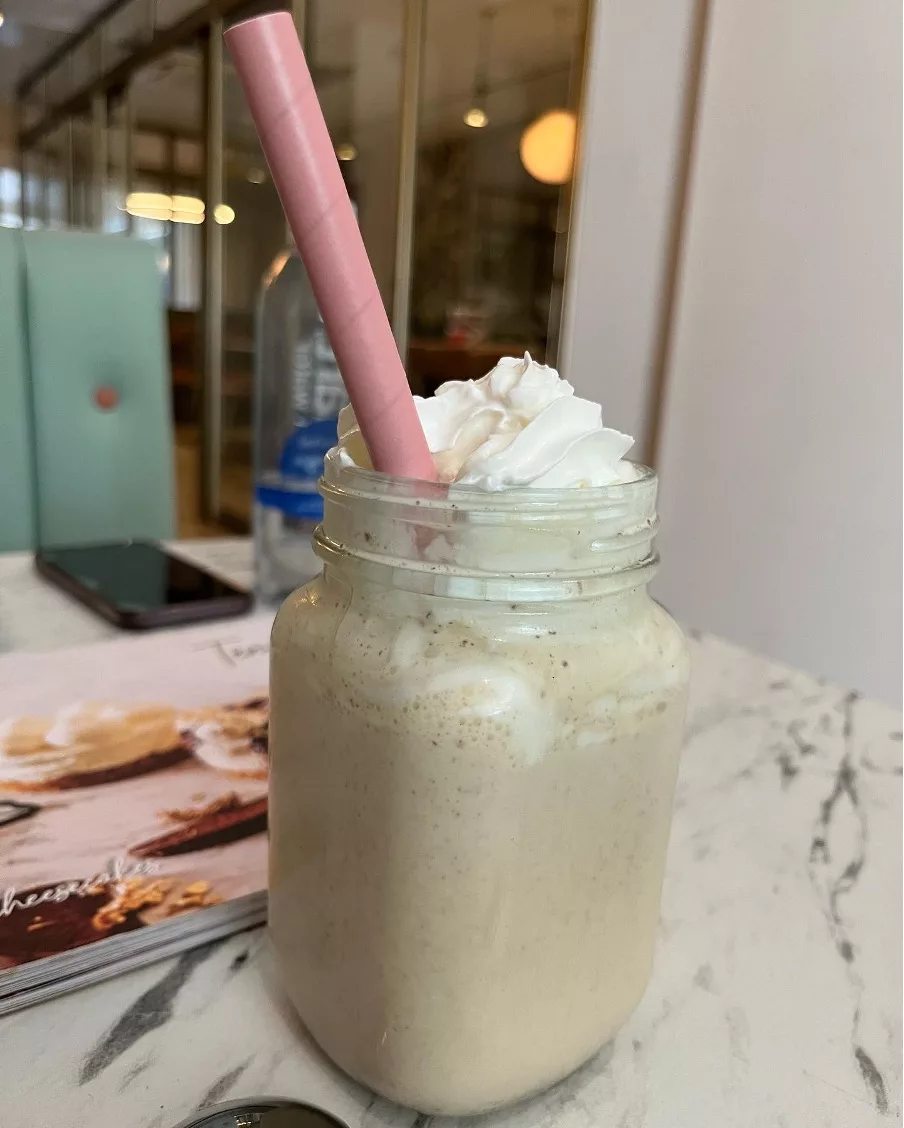 Overall, Temptations Dessert Lounge strikes me as somewhere still finding its feet. Some dishes like the croffles and waffles are great and would have me coming back time and time again. The environment, service, and garden are all immaculate and a more than pleasant place to spend an after-school afternoon or Friday evening. With a little focus, this is somewhere that can really fly and without any real Summertown competition, I think it just might.
---
For Cherwell, maintaining editorial independence is vital. We are run entirely by and for students. To ensure independence, we receive no funding from the University and are reliant on obtaining other income, such as advertisements. Due to the current global situation, such sources are being limited significantly and we anticipate a tough time ahead – for us and fellow student journalists across the country.
So, if you can, please consider donating. We really appreciate any support you're able to provide; it'll all go towards helping with our running costs. Even if you can't support us monetarily, please consider sharing articles with friends, families, colleagues - it all helps!
Thank you!