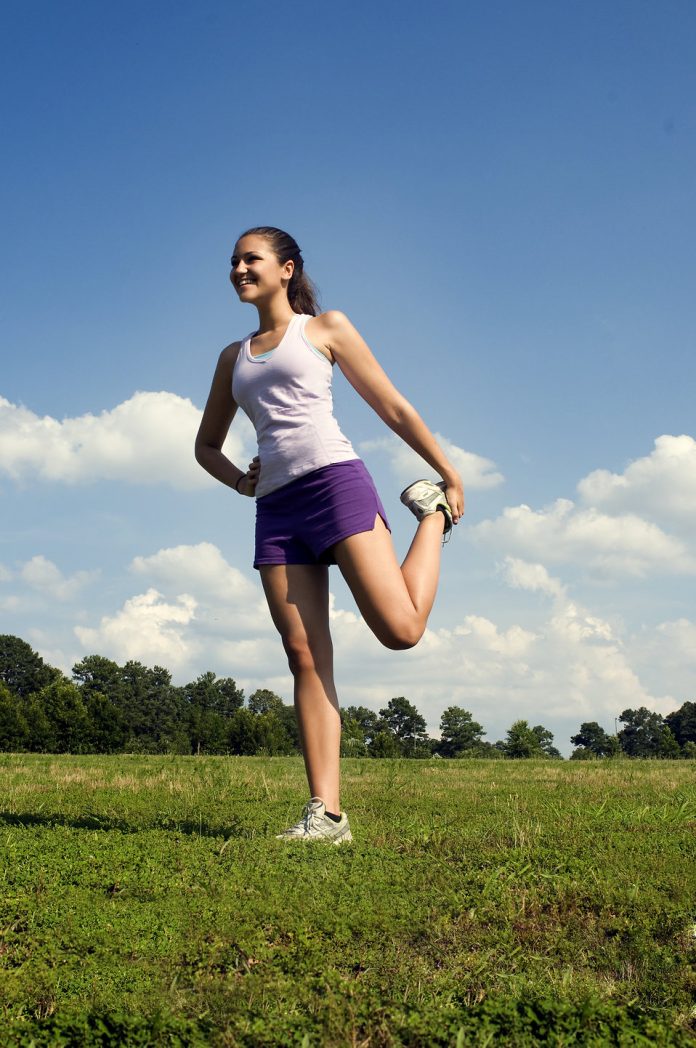 Last week, Rosie Huntington-Whitely launched her new active-wear line for M&S. Designed for cardio work-outs and inspired by ballet and yoga, the range follows on from her collection geared towards lower intensity routines released last year. It's affordable and sleekly produced in flattering minimalist tones of charcoal, aubergine and rose: it may be just the inspiration you're looking for to fulfil those over-optimistic New Year's resolutions.
The collection is a natural move for the model, who is an outspoken advocate of fitness. She has recently spoken to ELLE about her passion for well-being, saying she regards the gym as a form of meditation—and she has the body to prove it. Yet as I scroll through her shoot for the collection, looking enviously at her toned abs and perfectly sculpted arms as she manages to gaze at us seductively through her post-workout glow, I cannot help but feel a little frustrated.
Somehow, she manages to look like a Greek-goddess, when most of us bear more resemblance to an overripe tomato after a hard-core cardio session, which has me wondering: is all this fitness frenzy really a plus for body confidence?
Don't get me wrong, exercise is an essential component of stress-relief, longer life expectancy, not to mention that six-pack we all dream of being able to sport on the beach. But we've been bombarded by images and fitness fads over the past couple of years that have very little to actually do with mental as well as physical well-being. Kayla Itsines took Instagram by storm a few years back, inspiring thousands of women worldwide with her Bikini-Body-Guide. A gruelling set of daily reps and a corresponding eating plan, the guide is exactly what it says. Its ultimate goal is not to make you healthier, but to help you achieve the fashionable "fit" physique.
The effort required to maintain this physique is life-consuming, as proved by millions of fitness accounts documenting every gym session and kale-filled meal plan. Rather than teaching girls to respect their bodies, these feeds dictate to them what they should look like and how they should live. We're exercising to look good, to prove online that we're doing better than others—but not to feel good.
It's not just social media that's responsible for this unhealthy promotion of health. The fashion industry has jumped on the fitness bandwagon too. The women's active-wear market is currently valued at $20bn and hundreds of fashion-conscious fitness labels have been born recently, such as Alala, The Upside, and Beyond Yoga. Supermodels swear by their workout routines to get them runway ready. Victoria's Secret rigorously promotes their gym range, and the image of the 'strong, empowered fittie'—yet the models who pose prettily in boxing gloves and on yoga mats do not have the bodies that any other woman would if her career didn't depend on working out and eating a highly controlled diet. Fitness is a fashion at the moment, but right now it's doing little to improve body positivity.
I'm not saying don't exercise—go and have a kick-about, or join a yoga class. What I am saying, is that I think perhaps we need a gentle reminder that the women in fitness adverts are models advertising their own fashionable bodies.
Don't feel disheartened when you throw on Rosie's running leggings and don't look like the next VS Angel herself. But most importantly, don't punish yourself for it. You're doing wonders for yourself whether you end up looking like Rosie Huntington-Whitely or not. So next time you go for a run, bear that in mind. Do it to feel good about yourself, not just to look good.
---
For Cherwell, maintaining editorial independence is vital. We are run entirely by and for students. To ensure independence, we receive no funding from the University and are reliant on obtaining other income, such as advertisements. Due to the current global situation, such sources are being limited significantly and we anticipate a tough time ahead – for us and fellow student journalists across the country.
So, if you can, please consider donating. We really appreciate any support you're able to provide; it'll all go towards helping with our running costs. Even if you can't support us monetarily, please consider sharing articles with friends, families, colleagues - it all helps!
Thank you!