Upon first entering the gallery I was struck by the sheer scale of Unzueta's sculptural centrepiece – a huge felt chain, draping...
In "Facial Recognition", the main organiser, Lucy Tirahan's ambition is clear: to break the unspoken taboos surrounding mixed-ethnic heritage. The exhibition...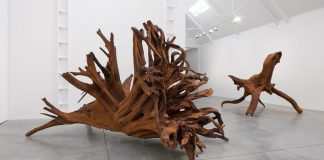 Ai Weiwei's 'Roots' exhibition at the Lisson Gallery in London may seem rather abstract upon first glance yet it provokes reflection on a range of issues from the 'uprootedness' of the refugee crisis to government corruption and civil disobedience.
Prostitution, criminality, madness, lust, and squalor. William Hogarth's collection of paintings and prints at the Sir John Soane's Museum satirize 18th century urban crudities through graphic pictorial dramatizations and dark wit.
Walking around the Stanley Kubrick exhibition at the London Design Museum in South Kensington, the overwhelming impression you get is of a man meticulous to a fault.
The curators of an upcoming exhibition celebrating Oxford's everyday queer history are appealing for local people to loan memorabilia.
The Imperial War Museum. Think cannons, guns and fighter aircraft. Think Teenage Kicks being blasted out at full volume? Culture Under Attack brings together unlikely connections between art and conflict.
The enticing title doesn't do justice, however, to the breadth of the collection: 400 objects from around the Roman world and beyond, covering centuries, showcasing the Romans' relationship to food and drink.
Running since 1769, the Summer Exhibition is the world's largest open-submission art show. From film to photography and prints to paintings (and everything in between) the show brings together the world's leading artists of all mediums, both household names and total unknowns.
Olafur Eliasson's "In real life", which is on until 5th January 2020, is a truly must-see exhibition at the Tate Modern. All forty...