The last three years of politics are enough to make a person want to do some Malcolm Tucker-esque screaming into the void....
Emily Capon argues that pantomime (when done well) still has an important place in the modern theatre.
Emily Capon explores explores the possibility of a Utopia of 'no-where' on the stage.
The actress on beginnings, theatrical lifelines and the deliciousness of language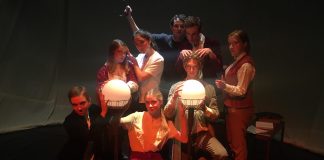 Didactic elements of Brecht's biographical play are highlighted by Velvet Vest Productions.
A review of the heartwarming comedy by Pangolin Theatre Productions
"This performance breathed a fresh, modern dynamic to an otherwise static play". Phoebe Athena Hennell explores the implications of language in a Modern Greek performance of Aeschylus' ancient tragedy 'Prometheus Bound'. With contributions from Andreas Janssen.
Fry has enough charisma and charm to match any of the Olympian characters in his tales, but could he hold the audience's attention for such a mythological marathon as this?
James Rampton speaks to one of the nation's favourite story tellers about the upcoming production of his book 'Mythos'
Morpurgo intended the tale to be one of 'reunion and reconciliation', but Nick Stafford and the National Theatre have transformed it into an 'anthem for peace'.