'I have measured out my life in coffee spoons' is a line which comes uncomfortably close to describing how I spend much...
My breath is since-soured coffee and yours is sweet cigarette smoke.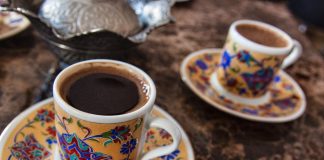 The exhibition highlights coffee's sociable origins embedded within a culture of meeting to talk and read. Although sadly underplayed, the most insightful element of the display is the recognition of the culture clash.
Celebrating the little-known health benefits of iced coffee.
An Aussie's take on Oxford's Breakfast Scene
Indulge in the deep bitter flavours of Colombia Coffee Roasters
The Society Cafe is a haven in busy Oxford
Cafe W is the best place to work over a coffee
Why I keep coming back to Taylor's
The windows might steam up when its cold but only from the warmth and comfort provided to those inside