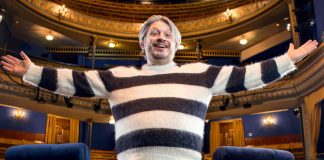 The comedian on his podcast, his time in Oxford and living in Boris Johnson's armpit
The art historian and presenter on restoration, vanity and Old Masters
The first impression that I get of George Osborne is that he is a man in a hurry – both literally and...
Joanna Lonergan speaks to the Radio 1 DJ on music, mental health, and Cornish pasties.
A genre in herself, Lana's sleepy Hollywood aesthetic and tragic love songs have earned her success in the indie pop scene....
On the literary scene, journalism, and the current state of the left
Cesca Echlin meets this year's OUDS President to discuss post-Medea hype, the need for increased representation in theatre, and what she wants to change about Oxford student drama.
Once loyal to the regime, now determined to share the truth: North Korean defector Hyeonseo Lee speaks to Oscar Baker about her mission.
Ten years after apologising for the persecution of Aborigines, the former prime minister of Australia explains why the current policy is going nowhere
John Bird talks about the possible solutions to homelessness and the role that the Big Issue plays on the streets