This adaptation of Alice Sebold's classic novel strikes an emotional chord at Oxford Playhouse.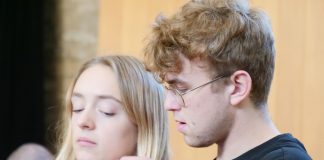 Jaya Rana previews Oxford Playhouse's Michaelmas student musical, Spring Awakening.
The Oxford Revue are headed to the Playhouse stage in 8th week, along with some special guests
A triple bill of comedy from Oxford, Cambridge, and Durham impresses at the Oxford Playhouse
Daanial Isaaq Chaudhry finds the latest Playhouse production completely compelling
A cheerful rendition of 'Payday' and some impressive character analysis make for a stunningly professional fifth week production.
A preview of the Theatre Goose and Sour Peach Productions' play at the Oxford Playhouse this week.
The effects of modernisation upon Williams' play
Cherwell contributors reflect upon the best student theatre of Hilary Term.
The most anticipated-show of Hilary term lands with both style and substance