"The whole thing's becoming/Such a bumbling farce/Was that a pivotal historical moment/We just went stumbling past?" Not enough people...
Extinction Rebellion has taken up a picket outside Oxford's Examination Schools this month to protest the Oxford Farming Conference. Environmentalists gathered outside...
Yesterday students gathered outside the Radcliffe Camera to protest the Citizenship Amendment Act, a bill passed in India's Parliament which has been...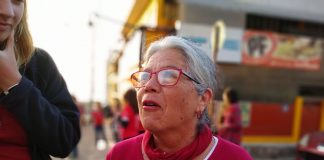 While the reports rightly condemn violent demonstrations, they ignore its link to police brutality and a President who has declared a State of War on his own people.
The Oxford Climate Justice Campaign protested at Glencore's recruitment event at the Old Bank Hotel on Monday night. Glencore are a multinational...
This morning school students across Oxford and the surround area left class to march at another climate change strike held in the...
With Highways England in line to open a consultation on the proposed 'expressway' between Oxford and Cambridge, two Oxfordshire councils have signaled...
The Bishop of Oxford, Rt Revd Stephen Croft, joined thousands in Westminster on Wednesday to demand action on climate change.
Last week, on a day reserved for the prestigious Encaenia ceremony, Extinction Rebellion took to the streets of Oxford to raise awareness...
Demonstrators marched in protest against cuts and privatisation, as well as calling for pay increase to end the staffing crisis.