That is the beauty of the concert. Music threading its way in and out of the thoughts of a hundred vague spirits in the audience.
The headspace flooding by Covid-19, is a familiar experience for many communities torn by humanitarian crises. The number of Covid-19 related fatalities has become...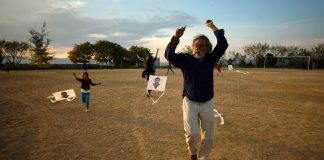 Upon arriving in Oaxaca, you're immediately struck by its rebellious and artistic character: the multi-coloured walls boast bold and political street art, small lithograph workshops pepper the streets and after school young children hawk their drawings on the main street.
Aristotle House will be repurposed by Makespace Oxford into a venue for charities, workers' cooperatives and social enterprises.
Christopher Goring looks back nostalgically at the final episode of the cult postmodernist sitcom
Maxim Parr-Reid and Tilly Nevin debate whether Oxford University fosters a sense of community