"There are few greater temptations on earth than to stay permanently at Oxford in meditation, and to read all the books in the Bodleian."...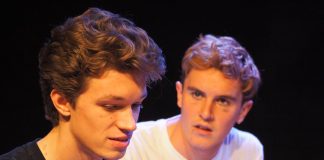 Phoebe Hennell reviews Tom Gould's new play 'Section Two'
Reminiscing about one's teenage years is a rather cinematic task. After all, Hollywood has made a great profit from narrating stories about what being a teenager should be and feel like.
"I felt the narrowing of my life to a very fine point. A hard triangle of a life over and me sprawled at its peak, hopeless and lost." - Russell Brand, describing a mental breakdown.
"Love Island doesn't just expose its contestants to the vitriol of the public, it actively encourages it."
Exploring the problematic depiction of eating habits in 'Love Island'
"The general reaction to musicians' pains is a testament to the humanity of our age."
Given the recent suspected suicides, should shows like Love Island and Jeremy Kyle be allowed on our televisions?
Stage Wrong Productions tackle the challenging black comedy on at the BT in third week.
For a play about suicide, Every Brilliant Thing is an unexpectedly life-affirming and hilarious production